Bouquets
You can order any bouquet in any size!
All bouquets

Presents
Souvenirs for children, loved ones, relatives and friends
All presents

Services
Making flowers for special moments of your life
"Flower Studio 55" – the world of feelings in flower bouquets!
Flowers speak louder than words. The correctly chosen bouquet will express feelings and wishes, attitude, hopes and dreams. Professional florists of "Flower Studio 55" have extensive experience in making bouquets and compositions, we find a personal approach to each client.
The network of "Flower Studio 55" works since 2005, it constantly developes and takes the leading positions in the Moscow floristic market. We do not stand still, we offer customers a high level of service and a huge variety of bouquets and compositions.
Our advantages
Once you visit our shop, you obviously will become our regular customer, because we guarantee the work on the result. We select individual bouquets of flowers, make them only after the order, so we always take into account the wishes and preferences of every customer.
Our main advantages are:
Only fresh flowers. We offer only high-quality and fresh flowers, so the bouquets will delight you more than one day without losing its freshness and attractiveness.
Professional work. The florists of "Flower Studio 55" have an extensive experience to execute any complex customer order. It is enough to tell about your wishes and the occasion, describe the tastes and preferences of the recipient, and our experts will be able to collect an ideal bouquet or composition for you.
High speed of work. The client often doesn't have much time, therefore the bouquet should be collected in a few minutes. For our florists is not a problem, their main strengths are the high rate and quality of work. "Flower Studio 55" always fulfills the order on time and gives a lot of positive emotions.
Delivery on proper time. "Flower Studio 55" offers cheap delivery of flowers and always on the appointed time.
Reasonable price.There is always a wide choice of gorgeous flowersat reasonable prices in "Flower Studio 55" in Moscow
A bouquet of flowers with delivery in Moscow will be a wonderful gift for any holiday, and it can be made even at a distance. We will help to express all your feelings and emotions, our exquisite bouquets will not leave anyone indifferent.
Variety of flowers
You don't need a reason to present a bouquet, just simple desire to please your lover is enough. We often receive orders for the birthday bouquets of flowers. We make bouquets, taking into account all modern fashion trends and wishes of the customer.
"Flower Studio 55" constantly updates the range of flowers, follows the world auctions of flower plantations and makes purchases taking into account new products in the flower world. Our services:
— creation of the original flower bouquets with delivery;
— decoration of any celebrations and weddings with fresh flowers and decor;
— hair decoration with fresh flowers;
— compositions and collages of flowers;
— weekly design of offices, apartments, shopping centers with compositions and bouquets of fresh and artificial flowers;
— gardening of apartments, private houses, offices, shopping centers, entrance groups, summer verandas with potted and flowering annual plants, as well as taking care of plants and flowers.
In our flower shops you may always order delivery of flowers in Moscow and the Moscow region, that will be always on time. There are couriers in the company's staff and the bouquets are delivered by means of our transport, so we guarantee the safety of the bouquets and the promptness of executing the order.
The network "Flower Studio 55" is the representative of Novikov Group. All bouquets look alive even more great as they look on the pictures on this site. You can easily order flowers with delivery on the website or call +7 (495) 120 55 77.
"Flower Studio 55" is an ideology of feelings, colors, shapes and fragrances. For us, the creation of bouquets is not just a job, but a real art that inspires. Create a great mood for yourself and your second halves, present happiness with "Flower Studio 55"!

Creation of distinctive bouquets and flower compositions for every taste

Payment is possible in cash to the courier, or on the website by credit card and electronic money

Delivery of bouquets in Moscow and the Moscow region at any convenient time for you

Original presents wrapping by designers

Decoration with flowers and floral compositions of any celebrations: weddings, anniversaries, parties

Decoration of working and corporate places with live potted and cut flowers

Examples of our work
Leave a request and we will collect an individual bouquet for you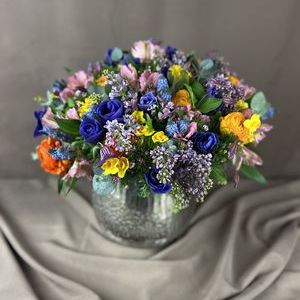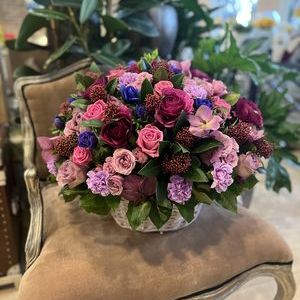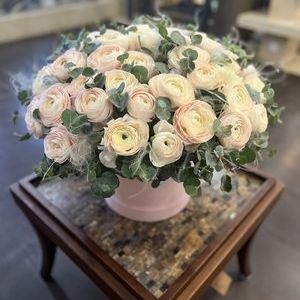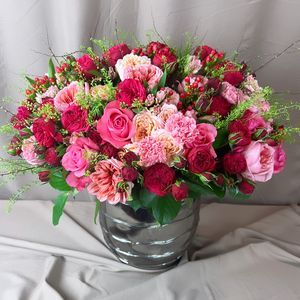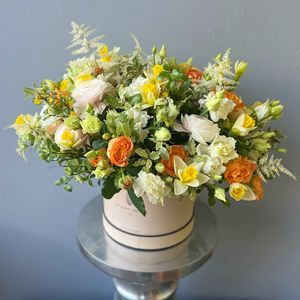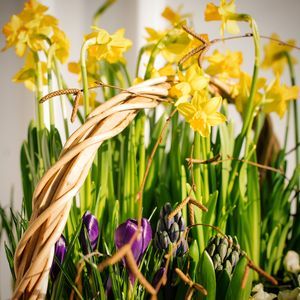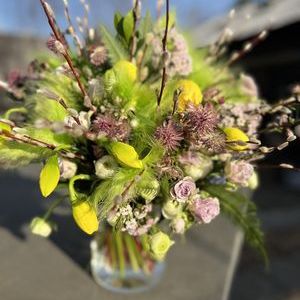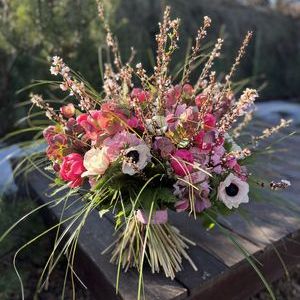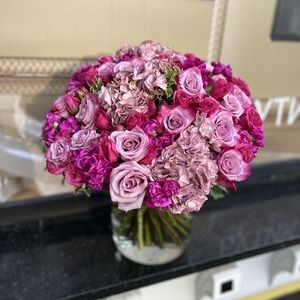 Our shops